Time Clock Punching Options
Web Based Time Clock
At its most basic, Spectrum TimeClock™ is a pure web based time clock solution. The web interface can be configured to allow punching where employees enter only their Punch-ID, or employees can be required to enter their Punch-ID and their password. Read more about this at Punch Clock Modes.
Barcode Time Clock
The web based punching interface can also be configured to accept Punch-IDs input via barcode scanners connected to a computer via a USB or Keyboard-Wedge connection, both where the barcode scanner acts as a keyboard entry device. In this mode, an employee's Punch-ID can not be manually typed in.
Biometric Time Clock

Spectrum TimeClock supports biometric punching via the SecuGen® Hamster™ Plus fingerprint reader. The Hamster Plus connects to Microsoft Windows® based computers using a USB connection, and comes with a CDRom containing device drivers that must be installed.

The Hamster Plus has a hardended glass touch pad. Fingerprints are reduced to encrypted mathmatic geometric templates that can then be used for fingerprint comparison.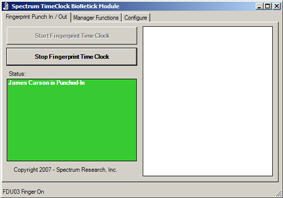 Our BioNetick™ Module is used to connect the Hamster Plus to a Spectrum TimeClock service account. The module supports all of Spectrum TimeClock's features like Pay Rate / Job Codes, as well as Punch In and Out notes.
Spectrum TimeClock can be configured to allow punching from only authorized computers running the BioNetick module and Hamster Plus.
PC Punch Time Clock Software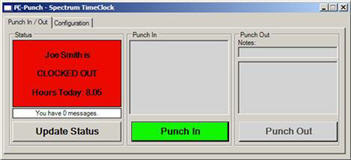 For scenarios where employees have their own computer workstation, and they will be rapidly punching in and out, potentially with different Pay Rate / Job Codes, we offer our PC-Punch™ Time Clock Software. PC-Punch is a small desktop program that resides in the Windows Tool Tray. Employees can use a right-click menu to punch in and out.
Hardware Time Clock Terminals
Spectrum TimeClock also supports a line of hardware time clock terminals. These terminals connect to your Ethernet network and require that our Spectrum TimeClock terminal polling manager software be running from a Windows XP computer on your network. Some Spectrum TimeClock options are not supported by the hardware terminals.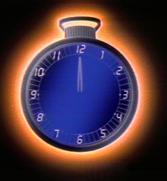 Spectrum Research
Time Clock Software


All articles are
Copyright © 2004-2013
Spectrum Research, Inc.
and may not be reproduced without permission.