How to Run a Quick Payroll Report
There are two ways to run payroll in Spectrum TimeClock. You can run a Quick Payroll Report (QPR), or you can run a Payroll Batch. Running a QPR gives you a detailed report of an employee's time and earnings, but does not make a copy of the payroll run for record keeping purposes - unless the QPR is printed.
To run a payroll batch, do the following:
Login as an administrator or Manager.
If you're an administrator, click on the "Admin / Payroll / Quick PR Report" menu.
If you're a manager, click on the "Payroll" menu.
Select the payroll period start date by clicking on a date in the left side calendar.
Select the payroll period end date for by clicking on the end date in the right side calendar.
Click on the "Run For One Employee" button, or the "Run For Multiple Employees" button.
If running for one employee, click on the employee's name.
If running for multiple employees, click on multiple employee names while pressing the <CTRL> key, and press the "Submit" button.
Related Topics:
How to Run a Payroll Batch
How to View a Payroll Batch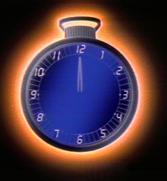 Spectrum Research
Time Clock Software


All articles are
Copyright © 2004-2013
Spectrum Research, Inc.
and may not be reproduced without permission.