An Employee Forgot To Punch In
From time to time, an employee may forget to punch in. Administrators and Managers can correct this problem by manually adding a punch using the time clock software. Here's how it's done.
Login as an administrator, or as a manager for the employee in question. Remember that managers can only manage employees within their same work group, or in work groups below them. Administrators can manage all employees within the system.
Click on the "Timecards" menu.
Click on the "By Employee" menu.
Find the employee in the employee listing, and click on "Select" next to their name.
On the resulting list screen, click the "Add" button at the upper left.
If you are using Internet Explorer and the Microsoft Office Calendar Control is loaded on the machine, click the little calendar icon to the right of the "Clock In" input box. Otherwise, enter their clock in time in the form specified by one of the examples at the bottom of the screen.

The default punch type is "Normal". However, you can also select Sick, Vacation, etc. from the "Type" dropdown.

The default reason will be "Forgot to Punch". If you are using time clock locations or pay rate codes, use those dropdowns to select the appropriate values.
If you want to enter the employee's punch out time too, do it at this time.
Click on the "Submit" button.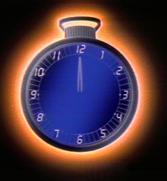 Spectrum Research
Time Clock Software


All articles are
Copyright © 2004-2013
Spectrum Research, Inc.
and may not be reproduced without permission.