How to Add an Employee
Administrators can add emloyees to Spectrum TimeClock.
To add a new employee, do the following:
Go to your clock's web url.
Login as an administrator.
Go to the "Admin / Employees" menu.
Click on the "Add" button/link at the top left of the listing.
From the "Add" form, enter the employee's unique "Employee ID". This is typically their ID used in your payroll system. You can change it in the clock any time.
Enter the employee's unique "Punch-ID". This is an ID that they will use to punch in. You may change it at any time.
Leave the "Active" checkbox checked.
Enter a password for the employee and confirm it.
Enter the employee's email address. This will allow them to use the "Forgot Password" function.
If you plan to use our accrual module, enter the employee's "Date of Hire".
If you plan to bulk distribute Holiday Pay, enter the employee's "Holiday Pay Start Date" (which is when they qualify to start receiving holiday pay), and enter the number of "Holiday Hours to Distribute" each time the "Generate Holiday Pay" function is used.
If you have added additional employee groups, then find the "Grp." Dropdown at middle left, and put the employee in the appropriate group.
Give the employee system rights. Most will have only "user" rights.
Select a value for "Employee Type". If your state doesn't have special overtime rules like California and some others do, then "Full Time -" Hourly" or "Part Time -" Hourly" will work for most.
If you want the clock to calculate gross pay, enter the employee's pay rate in the "Pay Rate" input box on the left side, about 2/3s of the way down.
All other fields are optional. We don't recommend that our customers put anything in the "Social Security Number" field.
Press the "Submit" button.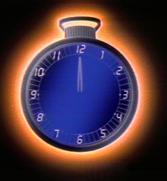 Spectrum Research
Time Clock Software


All articles are
Copyright © 2004-2013
Spectrum Research, Inc.
and may not be reproduced without permission.