CSS Cheat Sheet
---
Download our CSS Cheat Sheet / Quick Reference Guide
Can't remember all those CSS properties and values? That's no problem with our
CSS Quick Reference Guide
, suitable for lamination.
Has all of the most frequently used CSS properties and values
The single page quick reference guide has the majority of the CSS properties and values that you are likely to use on a daily basis. No more need to flip through all of those books!
Includes...
Font and Text properties
Borders
Background color and images
Margins
Padding
Cursors
Positioning
Internet Explorer Scroll Bar Colors
Size settings
Html File and Table examples
Click
HERE
to take a look.
Click
HERE
to download the PDF and print.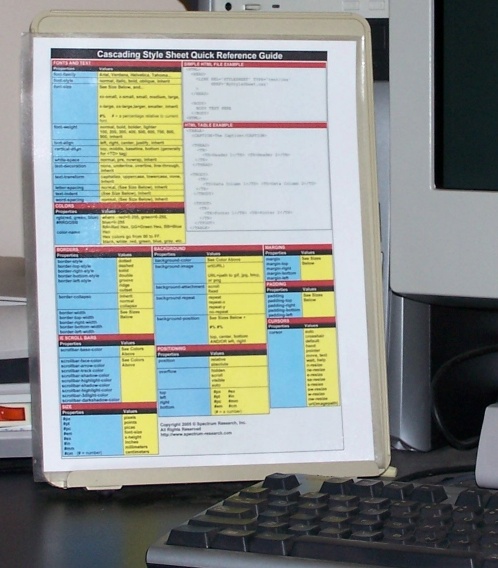 Copyright © 2004-2020 Spectrum Research, Inc., All rights reserved. Unauthorized duplication prohibited.