Custom Fitness Club Management Software from Spectrum Research
The Spectrum FCMS is a custom fitness club management system designed to manage the sales of fitness club memberships, visit passes and fitness related products for medium sized fitness club organizations.

The system was originally developed under contract at the request of the Williamson County Parks & Recreation department in Franklin, Tennessee, when they found that no existing fitness management system met all of their needs.

The system is composed of several components that run on local client machines, as well as a centralized web server based application and database that can be used to manage memberships and passes, as well as for live cash register reporting.
Point of Sale Module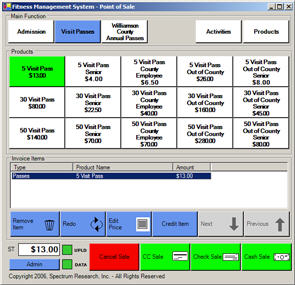 The point of sale module is a desktop cash register program that allows fitness clubs to sell passes, memberships, activities like court rental, and other products. The application uses a local database for fast access and pushes transactions up to the centralized database using an internet connection. The sale of many products can be accomplished without an active network connection to the server.

The point of sale module is a very simple program to use, and works great with touch screen monitors.

All transactions can be viewed from the system's web based back-office.




Member Barcode Swipe-Through Module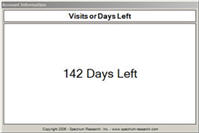 The barcode swipe-through module is used to allow club visitors to quickly swipe their barcode through the system when they have pre-purchased visits or have an annual membership. All the visitor has to do is swipe through and their visit is deducted from any that they have pre-purchased.

It is made up primarily of two dialog boxes. The one at far right is seen by employees, and has identifying information about a member, as well as photos for up to 9 people in their membership. Employees can click (or press - on a touch screen monitor) on any of the photos to see that person's information.

The screen immediately above this text is intended to be customer facing on a dual monitor station. It displays only the number of days left on a pass or membership, thereby keeping member information private from other members, but letting a member know when they need to purchase more visits or extend their membership.

The barcode swipe-through module uses three different audible alert sounds to let employees at busy clubs know if a visitor has an expired pass or membership, has one that is about to expire, or is ok to enter the facility.
Member Photo ID Module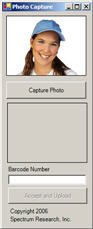 The member photo ID module is used to create member photos that are then associated with their barcode ketags. The photos are used by the Barcode-Swipe-Through module described above.

The photos themselves are stored at the server, but are cached locally for fast access by the Barcode-Swipe-Through module.
Back Office Management Portal
The back office management portal is a web based application that runs from the centralized server that the other modules talk to. It has numerous reporting features, and is used to enter additional informatio about members when a fitness club membership is sold.
Call Today
Call us today to learn more about the Spectrum Fitness Club Management System and how we might customize it to fit your organization.