VidRent - Online DVD Rental Software
Spectrum VidRent is an web based / online DVD video rental software system designed to fill the needs of video rental firms renting DVDs over the internet. It is engineered to provide ease of use, whether by a rental customer or the company's System Administrator.
The VidRent video rental software is built on Active Server Page technology and uses a Microsoft SQL Server 2000 database to store movie information.
VidRent was first used by Gold Entertainment Group, Inc., and their 5000 distributors and customers for almost a year before they (like others including Walmart) fell victim to the recent video rental company price wars and ceased operations.
VidRent is no longer available.
Click VidRent to check VidRent out!
More about VidRent Online Video Rental Software
Customers can browse through the database of available videos, or login and rent a video.


Administrator Functions
Administrators are given virtually complete access to all system functions.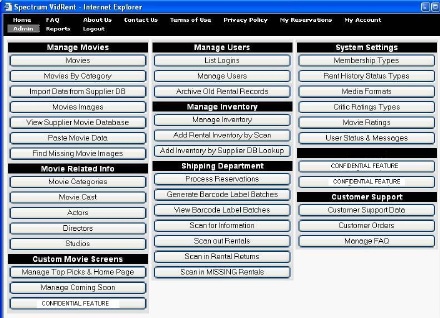 Manage Movies
Manage Movie Images
Import data from supplier database.
View Supplier Movie database.
Manage Movie Categories / Genre
Manage Movie Cast / Actors
Manage Actors
Manage Directors
Manage Studios
Manage Top Pick and Home Page
Manage Coming Soon
List User Logins
Manage Users
Archive Old Rental Records
Manage Inventory
Add Rental Inventory by BarCode Scan
Add Inventory by Supplier Database Lookup
Process Rental Reservations
Generate Barcode Labels
View Barcode Label Batches
Scan Inventory for Information
Scan Out Rentals
Scan In Rental Returns
Scan In Missing Rentals
Manage Membership Types
Manage Rental History Status Types
Manage Media Formats
Manage Critics Ratings Types
Manage Movie Ratings
Manage User Status and Messages
Customer Support Data Screens
Manage Customer Orders / Membership Purchases
Manage System FAQ
Customer Support Functions
Customer Support employees have special screens that they can use to manage customers.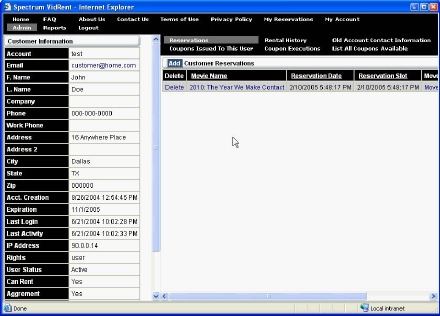 System Customizations
The look and feel of the portal is easily customizable, since it makes heavy use of Cascading Style Sheets. The rest of the look and feel is controlled by a small number of ASP pages that can easily be changed.
System Reports
List All Movies
Inventory By Status
Customer Movie Rent Counts
Customer Movie Rent Counts - Can Rent Only
Reservation Count By Movie
Movies Out By User
Reservations By Movie
Movie History By User
Movie Inventory Data
Obsolete Account Contact Information
Expired Users With Movies (Movie Listing)
Expired Users with Movies (User Listing)
System Metrics
Current Users Online
User Expiration Dates
Batch Item Report
Batch Item By Inventory ID
Users and Expirations