The TimeCard Tabulator II is a hand-held Time Card Calculator that will let you perform most payroll time card calculations with only a few keystrokes. Doing time card calculations has never been easier!
It was specifically designed for adding up employee time cards .
Powerful Features

Easily enter times like 9:03AM using dedicated buttons for

Hr

,

Min

,

Sec

,

:

,

AM

and

PM

.
Calculate time cards using

In

and

Out

buttons.
Add and subtract time in HH:MM:SS like 8:37AM and 12:07PM.
Multiply and divide time in HH:MM:SS like 8:37AM and 12:07PM.
Calculate Time Difference
Automatic rounding of times if desired.
Automatic subtraction of break time if desired.
Convert from decimal hours to HH:MM:SS - and back.
Add and subtract military time values like 17:00 (5:00PM).
Has a countdown clock with buzzer!
How To Add Employee Time Cards

Enter the morning start time:

8

:

3

0

and press

In

Enter the morning end time:

1

1

:

4

5

and press

Out

Enter the afternoon start time:

1

2

:

3

0

and press

In

Enter the afternoon end time:

4

:

3

0

and press

Out

Find the employee's daily total hours by pressing

Emp Hrs

. Time rounding is automatically handled as configured (see below)
Repeat steps 1 through 5 for each day of work time.
Press

Emp Hrs

again to calculate hours worked total for the week.
Press

Emp Hrs

again to calculate employee gross pay for paycheck based on their stored rate (see below).
Press

Next

to move to the next employee, leaving all break, time rounding, and pay rate settings the same.
Setting the Employee's Rate of Pay

Clear the time card calculator by pressing

On/C

On/C

.
Store the rate of pay by pressing

1

0

.

5

0

Stor

Rate

(for $10.50 per hour).
Setting the Time Rounding Method

Clear the time card calculator by pressing

On/C

On/C

.
Enter the rounding setting:

0

.

0

Min

Rnd

to turn rounding off.

5

.

0

Min

Rnd

for 5 Minute Rounding 1/12th Hour).

6

.

0

Min

Rnd

for 6 Minute Rounding (1/10th Hour).

15

.

0

Min

Rnd

for 15 Minute Rounding (1/4th Hour).
Employee pay rates, non-paid break durations, and time rounding can be pre-configured.
The TimeCard Tabulator II does much more too...
Total multiple timecard entries.
Compute total hours of time worked and pay
AM/PM or 24-hour military time formats.
Supports time rounding.
Supports time conversions.
Much faster than manually adding time cards by hand.
Automatic break time subtraction.
Built in Stopwatch / Timer.
Includes FREE Armadillo Gear® protective hard case.
User Manual explains how to calculate time cards and add time, as well as how to round time.
Full One Year Limited Manufacturer's warranty.
Toll-Free technical support hotline.
Click to see a comparison of time card calculator functions offered by the TimeCard Tabulator II and the Time Master II time calculators.
We also offer a free printable timesheet that you can print out and use with your new Tabulator II time card calculator.
Buy the Time Card Calculator Here: Only $39.95
Available only in the USA.
Internet Orders are accepted 24 hours a day via the "Add to Cart" button at right.
Mail Orders are accepted via this order form.
Orders ship via US Priority Mail, a 2 to 3 business day service offered by the US Postal service.
Most orders arriving before 11:00 AM Central Time are processed and shipped the same day.
Tennessee residents pay 9.25% sales tax.
View our Privacy Policy.
View our Return Policy.
















































Where to buy the TimeCard Tabulator II Calculator? It is NOT available in office supply stores like Staples, Office Depot and Office Max. The TimeCard Tabulator II is manufactured by Calculated Industries. It is a handheld device that can be used to replace Copleys online time card calculator. Calculate my hours worked! Model 9530.


Looking for
SOFTWARE
?
Take a look at our
Time Card Calculator
Software!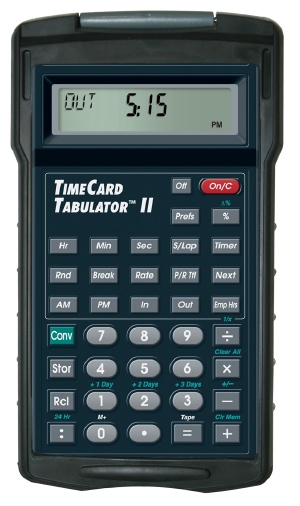 <!HR>

Here's what some of our customers are saying
about the Tabulator II Time Card Calculator.
I received it and I totally love it. What a great invention as I didn't even know this existed. This wonderful gedget is awesome! Thank you very much!!! - Lorie Martin
... a great time saving device. - Connie R.
I called tech support and they were great and helped me format to hours and minutes! - KimMarie M.
Thank you! I've needed one of these for months! They seemed impossible to find. - Becky B.
Got them. Thanks for the quick shipping! - Jackie M.
This will help us cut time processing time cards.
- Lori S.
This is the second Tabulator II I have purchased. I worked somewhere else and bought it to use there. When I left, I forgot to take it with me and SO had to buy it again. Thank you again.
- Jan G.



<!HR> It comes with it's own
free time card calculator cover
Armadillo Gear®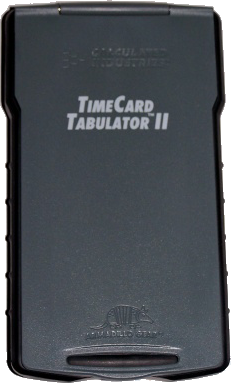 ---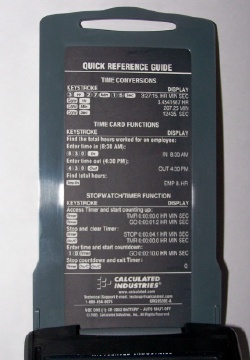 The inside of the Armadillo Gear cover is a Calculator Quick Reference Guide.


---
---
Do you need Time Clock Software?
If you're looking for a more powerful way to track employee time and attendance, take a look at Spectrum TimeClock, our web based employee timeclock software and service. Click the button below Now!

Find out more about web based
Spectrum TimeClock.