Elapsed Time Calculator
Doing elapsed time calculations has never been easier!
Now you can use the Time Master II to calculate elapsed time in AM/PM and Military Time formats. It's great for scuba divers, pilots, or calculating the elapsed time of other events.
How to Calculate Elapsed Time Calculations

Enter the start time

7

:

1

0

AM

and press Begin.
Enter the end time

2

:

2

5

PM

and press End.
Press Duration and the calculator displays 7:15:00.
Save the result to memory (for later addition) by pressing

Stor

.
Convert to decimal hours by pressing the

Hr

button, and it displays 7.25 hours.
How to Add Time Values Like:
8 Hours + 72 Minutes + 12:25 (hh:mm)

Add in the first value

8

Hr

and press

+

.
Add in the second value

72

Min

and press

+

.
Add in the third value

12

:

25

and press

=

.
Displayed Time = 21:37:00 Hr/Min/Sec.
Run the Countdown Timer for One Hour

Press

Timer

to place the calculator in timer mode.
Enter the Coundown start time

1

Hr

.
Start the countdown by pressing

Timer

.
Pause the countdown by pressing

Timer

.
Restart the countdown by pressing

Timer

.
The time for multiple elapsed time durations can be added together. Time can also be subtracted.
The Time Master II does much more too...
Built in stopwatch with buzzer.
Built in lap timer.
Built in countdown timer.
Built in countup timer.
Compute time conversions.
Compute athletic projected split times
Calculate earnings based on hourly rates
Radio Advertising spacing
Calculate time difference between times.
Has scheduling capabilities.
Pocket Reference Guide.
Full One Year Limited Manufacturer's warranty.
Free Armadillo® Gear protective hard case.
Toll-Free technical support hotline.
The Time Master II is great for...
Pilots and flight attendants can track hours on duty to prevent exceeding maximum flight hours.
Aircraft flight log calculations (flight time / flight hours calculator).
Flight crew scheduling.
Television and broadcasing professionals can use the elapsed time timer and stopwatch for editing and production.
Coaches can use the audible stopwatch timer for athletics applications.
Medical professionals who have to track elapsed time for blood plasma and vaccines.
Dive supervisors and support crew who have to fill out divelogs with diver in / out times, water times, and bell / habitat times.
Click to see a comparison of time calculator functions offered by the Time Master II and TimeCard Tabulator II time calculators.
Buy the Elapsed Time Calculator Here - Just $39.95
Tennessee residents pay 9.25% sales tax.
Internet orders are accepted 24 hours a day via the "Add to Cart" button above.
Orders ship via US Priority Mail, a 2 to 3 business day service offered by the US Postal service.
Available only in the USA.
Most orders arriving before 11:00 AM Central Time are processed and shipped the same day.
View our Privacy Policy.
View our Return Policy.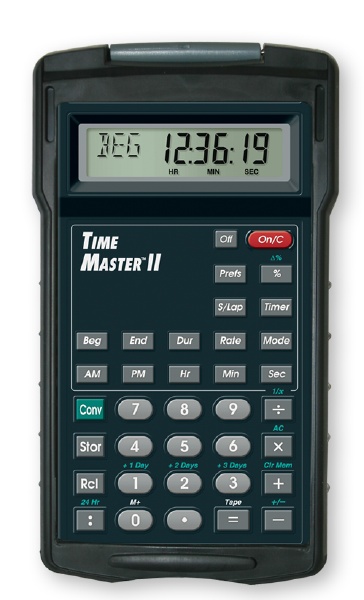 Looking for
SOFTWARE
?
Take a look at our
Time Card Calculator Software
HERE